The Structure Generator is the tool to design and define your own structures by defining unit cells and transition rules between cells. In the Structure Generator, you can use a combination of nodes, bars, faces and stl elements to create your own unique unit cells. This allows you to tailor and optimize the properties of your structures for exactly the application and production method intended.

The Structure Generator is very easy to use. You first select your connection nodes in the unit cell. These can be positioned manually by using the snap function of the grid or by entering an exact coordinate for each of the nodes. The nodes are then connected by bars or faces. The cross section of the bars can be designed in a separate editor and an arbitrary number of cross sections can be defined for each cell and assigned to individual bars. Faces are defined as a triangles between three nodes and by a thickness you can specify.
For complex structures, it is also possible to import STL files as unit cells and combine such STL files with nodes, bars and faces as needed. This makes it possible to use, for example, scan data as unit cells.

The final concept of the Structure Generator is that of transition rules. By defining transitions you ensure that cells of different types get properly connected in accordance with your intentions, even if they do not have corresponding nodes. If the elements of two adjacent structure cells in the structure do not meet and end up in empty space, you can insert additional elements to connect those loose ends. This is an essential part of being able too freely mix cells of different types within a structure.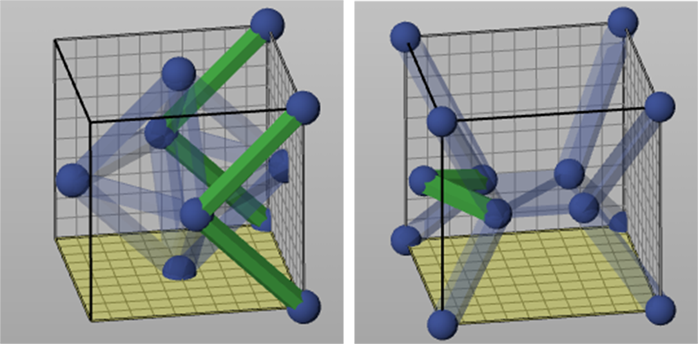 Esthetics
Material reduction
Non-linear
Elasticity
Function
Design
Lightweight
Flexibility
Specific applications
Tailored response
Tweet