Dr. Bernd Kessler, Dentist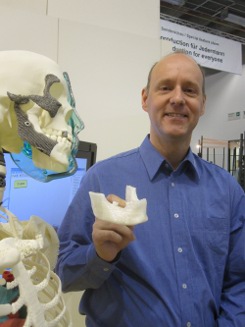 Zurich, Switzerland
As a dentist and implantologist I work as carefully as I can to provide the least amount of discomfort and to promote health and recovery for patients. I've figured out a way to spare my patients a lot of money, time and pain: I use 3D-models of their teeth and jawbones to plan my operations for dental implants. As a result I do not have to make any cuts through their gums because I already know the conditions and dimensions of the jawbone. New modern implantology methods offer a big advantage for quality of life, and netfabb is a part of it!
Here is what I do: I create 3D-data of the patients' jawbones by using a DVT (Digital Volume Tomograph). I edit them digitally with netfabb's software and then send them to my RapMan 3D-printer. But up until now I've always lacked software that is professional enough to handle my medical data, which demands very high standards.
With the netfabb Engine Basic for RepRap, I've finally found a suitable and affordable software. I basically use it for preparing my 3D-data for 3D printing. This method of implantology keeps the risk of infection to a minimum and allows the patients to heal more quickly. I can also keep the costs for an implant at half the normal price, which allows many more people to be able to afford dental implants. netfabb has made it a lot easier for me to deal with 3D-data every day.
» read more success stories...
Tweet