netfabb Automatic Packing boosts productivity in Additive Manufacturing
Wednesday, June 25, 2014 by Alexander Steiner

Do you know this situation?
It took you hours to nest almost a hundred parts into your build envelope. Then you set up the machine and fed it with the data. But after a few hours of production the machine suddenly stops. An error has occurred. Not again...
Many people are not aware how resource-wasting such errors really are. Every single failed build costs lots of man hours, production resources and creates stress. And the whole situation costs even a lot more when you have to place all your parts manually for the next build job.
Fortunately there is a solution for this!
netfabb Automatic Packing automatically places your parts as compact as possible into your build envelope and enables a significant reduction of nesting time and material consumption, especially with a high number of parts. As a tool for quote and data preparation, it declines building costs directly and thereby increases your revenue per part.
netfabb also fixes your data and models even in the most complicated cases and reduces the probability for machine errors. It also enables you to feed your machines with 100% error-free slicing data - guaranteed.
Save your time and let your computer do the work for you. netfabb groups and arranges a large amount of different parts on the building platform as compact as possible. This saves printing material and a lot of manual work.
Elaborated control options allow you to control the size of your build platform and many other tools to increase your work efficiency. Further options for automatic part nesting include:
"Minimum distance" determines the distance between the parts. Keep it at 1.0 mm to get the most compact results.
Set "Accuracy" to determine the accuracy of the placement. The more accurate the more compact the arrangement will be and the longer the computer needs to do the calculation.
"Z rotation steps" determines how far the parts may be rotated when their rearrangement is done.
"Limit platform height": Set the maximum height up to which the parts shall be arranged on the platform.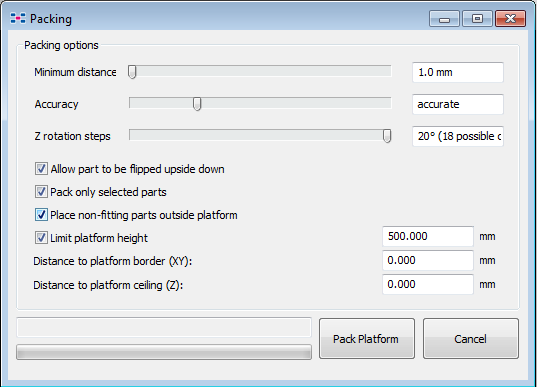 netfabb Automatic Packing pays off really fast for companies offering Rapid Prototyping services and companies manufacturing a lot of parts per build job.
Invest today the equivalent amount of just a few kilograms of production material and save hundreds of build jobs and customer's orders in the future.
Contact us today and discover how easy all this really goes with netfabb. Request more information and your quote today.
Category: 3D Printer
---
Comments
[
1
]
Tweet
---
Additive Manufacturing is conquering the Automotive Industry
Friday, June 20, 2014 by Alexander Oster
3D Printing's disruptive advantages will transform the automotive business. While it may be a while until we see 3D printed parts in mainstream cars, the racing and high-end automotive industry is jumping on titanium and steel parts, which exploit unique geometries that can not be achieved in any other way.
Christian von Koenigsegg, one of the leading hypercar manufacturers, explains in detail, how he uses 3D Printing to boost the performance of his production cars. This is way beyond what we know as "Rapid Prototyping" in the last 20 years.
Category: 3D Printer
---
Comments
[ 0 ]
Tweet
---
netfabb at RAPID 2014—Upcoming trends in additive manufacturing
Wednesday, June 18, 2014 by Charlie Luzolo
Taking place for the 21st time this year, RAPID 2014 again proved its status as a first grade hot spot for additive manufacturing and 3D Printing, giving a good overview of what AM may mean to industry today.

Speaking of big industrial potential, netfabb has provoked a keen interest of RAPID attendees especially in our highlight on display, the new netfabb Model Repair Service powered by Windows Azure.
As leading AM analyst and guru Terry Wohlers put it in his keynote talk, AM is becoming a really big issue with respect to metal based AM machines. The extraordinary increase of sales of 3D printers capable of producing metal parts of nearly 76% in 2013 vs. 2012 is primarily due to an intensely growing interest of medical, dental and aerospace industries in AM. This trend is neatly reflected by netfabb's reference customers. Category: 3D Printer
---
Comments
[ 0 ]
Tweet
---
Tweet