Join us at RAPID 2014
Wednesday, June 04, 2014 by Charlie Luzolo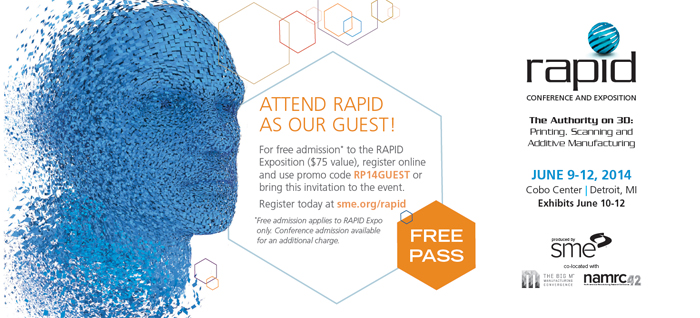 You are invited to visit us at our booth (#435) next week at the RAPID 2014 in Detroit (COBO Center), Michigan, where we are going to exhibit our latest version of netfabb Professional
Join us from June 10th - 12th to experience the neat new features of version 5.1.1 that offer you yet more convenience to handle your 3D Printing business successfully!
See our visionary netfabb Selective Space Structures (3S) live and get to know all about our new netfabb Cloud Services.
Registration is quick & easy:
1. Use the link and code in the banner above or click the following special link to register for your free expo pass (save $75!).
2. You may register as many team members as you like!
RAPID 2014 brings together four major growth industries (aerospace, defense, medical, and energy) in a venue designed to help you discover the potential of emerging and existing technologies…and how they can be applied across the manufacturing spectrum. In all of these industries netfabb Professional can prove its worldwide leadership to increase productivity and to allow for unprecedented solutions.
For more information, please visit: http://rapid.sme.org/2014/public/enter.aspx
We look forward to seeing you in Detroit.
Category: Exhibitions
---
Comments
[ 0 ]
Tweet
---
The first ever 3D Printed Rocket Engine sees flight
Friday, May 30, 2014 by Alexander Oster
In this mind-blowing presentation, Elon Musk unveils SpaceX's newest spaceship, the Dragon 2. It is made for bringing up to 7 people up in space, and can reenter the atmosphere while landing vertical on a landing site.
This makes it the first fully reusuable spaceship, and is another building block for a dramatic cost decrease in space travel which will get in in reach of millions of people.
Category: 3D Printer
---
Comments
[ 0 ]
Tweet
---
Release of netfabb Professional 5.1.1
Wednesday, May 28, 2014 by Charlie Luzolo
Heard about our free update to netfabb Professional 5 yet?
netfabb Professional 5.1.1 is out and it brings along neat new features to make the usage of netfabb Professional even easier (Yes, this IS possible, indeed!).
This upgrade comes absolutely free for the smart owners of netfabb Professional 5 and delivers...
1. Advanced cutting with tolerances, round corners and multiple polygons
2. A simplified 3-step labeling process (enter or load text – place and adjust – apply!). Also possible for multiple labels
3. Display of your various part names next to them for better identification on the platform
4. Direct import of VRML files
Sounds good? Go ahead and get your free update now to and get ready to boost your AM, RP and 3D Printing experience with netfabb!
Category: netfabb
---
Comments
[ 0 ]
Tweet
---
Tweet