Additive Manufacturing is conquering the Automotive Industry
Friday, June 20, 2014 by Alexander Oster
3D Printing's disruptive advantages will transform the automotive business. While it may be a while until we see 3D printed parts in mainstream cars, the racing and high-end automotive industry is jumping on titanium and steel parts, which exploit unique geometries that can not be achieved in any other way.
Christian von Koenigsegg, one of the leading hypercar manufacturers, explains in detail, how he uses 3D Printing to boost the performance of his production cars. This is way beyond what we know as "Rapid Prototyping" in the last 20 years.
Category: 3D Printer
---
Comments
[ 0 ]
Tweet
---
netfabb at RAPID 2014—Upcoming trends in additive manufacturing
Wednesday, June 18, 2014 by Charlie Luzolo
Taking place for the 21st time this year, RAPID 2014 again proved its status as a first grade hot spot for additive manufacturing and 3D Printing, giving a good overview of what AM may mean to industry today.

Speaking of big industrial potential, netfabb has provoked a keen interest of RAPID attendees especially in our highlight on display, the new netfabb Model Repair Service powered by Windows Azure.
As leading AM analyst and guru Terry Wohlers put it in his keynote talk, AM is becoming a really big issue with respect to metal based AM machines. The extraordinary increase of sales of 3D printers capable of producing metal parts of nearly 76% in 2013 vs. 2012 is primarily due to an intensely growing interest of medical, dental and aerospace industries in AM. This trend is neatly reflected by netfabb's reference customers. Category: 3D Printer
---
Comments
[ 0 ]
Tweet
---
Join us at RAPID 2014
Wednesday, June 04, 2014 by Charlie Luzolo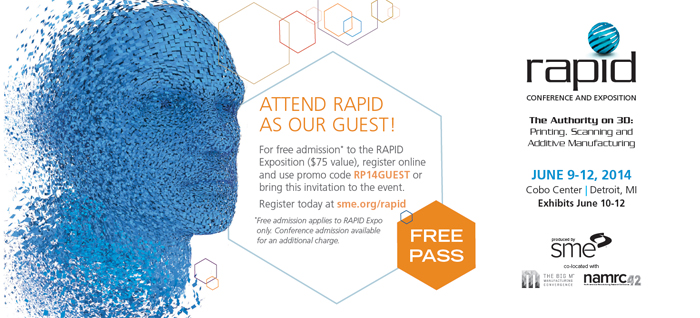 You are invited to visit us at our booth (#435) next week at the RAPID 2014 in Detroit (COBO Center), Michigan, where we are going to exhibit our latest version of netfabb Professional
Join us from June 10th - 12th to experience the neat new features of version 5.1.1 that offer you yet more convenience to handle your 3D Printing business successfully!
See our visionary netfabb Selective Space Structures (3S) live and get to know all about our new netfabb Cloud Services.
Registration is quick & easy:
1. Use the link and code in the banner above or click the following special link to register for your free expo pass (save $75!).
2. You may register as many team members as you like!
RAPID 2014 brings together four major growth industries (aerospace, defense, medical, and energy) in a venue designed to help you discover the potential of emerging and existing technologies…and how they can be applied across the manufacturing spectrum. In all of these industries netfabb Professional can prove its worldwide leadership to increase productivity and to allow for unprecedented solutions.
For more information, please visit: http://rapid.sme.org/2014/public/enter.aspx
We look forward to seeing you in Detroit.
Category: Exhibitions
---
Comments
[ 0 ]
Tweet
---
Tweet