Boost Your Rapid Prototyping Business with netfabb Professional 5.1
Friday, January 31, 2014 by Alexander Steiner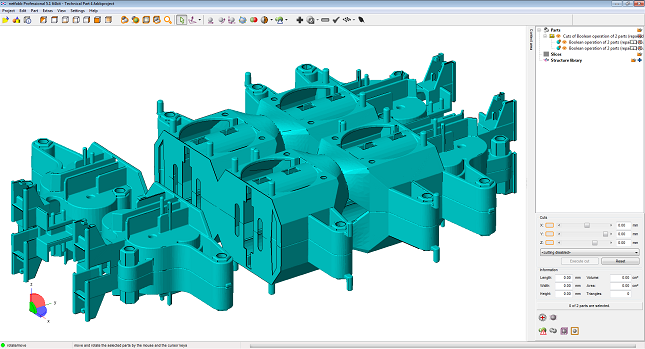 New year, new tools. We are happy to announce the release of the new version of netfabb Professional. This time we focused on empowering netfabb's most used functions and extending the software with features you can implement into your daily business processes and applications.
Discover the new benefits:
netfabb's new enhanced 3D merging, cutting, subtracting and wrapping functions work faster than ever before and netfabb now offers the most stable and reliable mesh boolean tool on the market.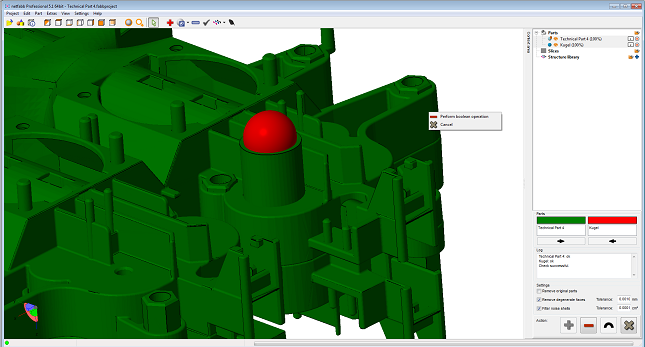 Repair your parts and meshes now up to 80 % faster and use a variety of new advanced repair scripts: e.g. for reduction or refinement of triangles and for automatic renaming of your parts with self-defines prefixes and suffixes.
And: most repair functions (like hole closing and fixing flipped triangles) now do also work on selected triangles of the mesh only. Therefore netfabb now not only helps you to automatically repair the whole part but also at selected areas of the part only. This allows even more accurate part fixing and exactly where it is required - and keeps you in full control even in critical cases.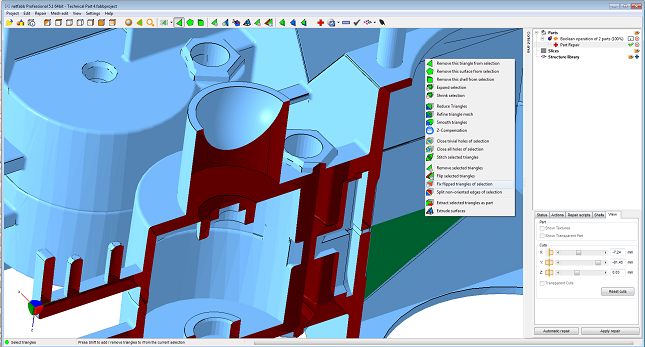 Automatically create reports of your parts and be really fast when it comes to sending out quotes to your prospects. The new netfabb report generation feature includes all the main part and platform information and also profound analysis parameters. Never painstakingly copy and paste required information to your quotes again – adjust the reporting templates to your requirements and generate them automatically.

Use the integrated batch mode and macro scripting for machine-specific part manipulation: autonomous repair, refinement, triangle reduction, part grouping and renaming of hundreds and thousands of files at once. This one is a real time saver. In the past there maybe were situations in your process where you had to do hundreds of mouse clicks. Now you can achieve the same and even better results with only a one click.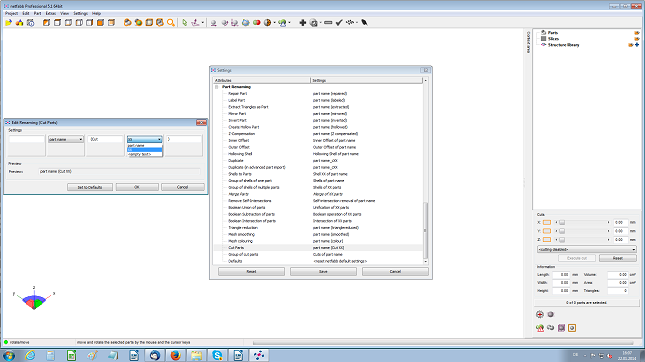 Discover several newly included geometric shapes to fashion up your existing model or to create your own: Bracelet, Vase, Picture Weep, Brick, Fractal and a Rhombicuboctahedron.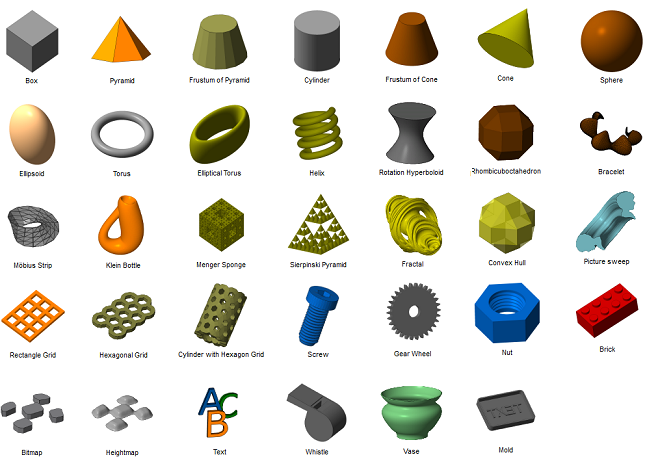 New supported file formats: Color-STLs (import, edit and export STLs with color information), 3MF (The new Microsoft Standard for 3D Printing) and Binvox (Binary Voxel Format).
Remesh function: create a completely new mesh of your part or improve an irregular and "bad" mesh.
Mesh compare function: compare two meshes with each other e.g. to ensure that the repaired part still meets your measurement requirements.
Take a look on our list of all the new functions in netfabb Professional 5 and the supported file formats.
netfabb Professional 5.0 users will get their upgrade to version 5.1 for free. Just run the software update utility at a suitable occasion.
netfabb Professional 4.X users should upgrade to version 5.1 today for only 899 € (1,199 USD). The investment will pay itself off within a few weeks. That's for sure.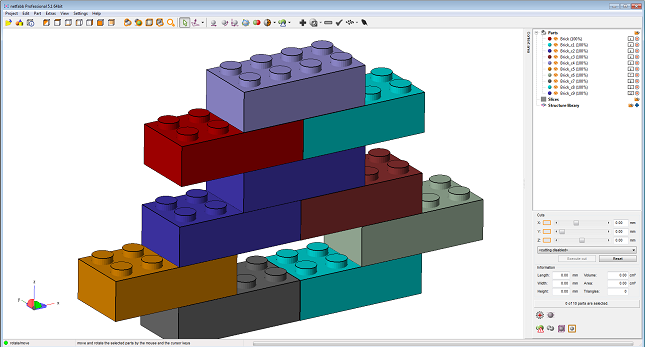 And for all the owners of personal 3D Printers, we are very happy to announce, that all the improvements in the part library, the remesh function, the enhanced 3D Boolean, the new repair scripts and the 3MF and Color-STL file formats have also been included into netfabb Private.
Category: netfabb
---
Comments
[ 0 ]
Tweet
---
Your Personal Smart Phone Case
Tuesday, November 26, 2013 by Alexander Steiner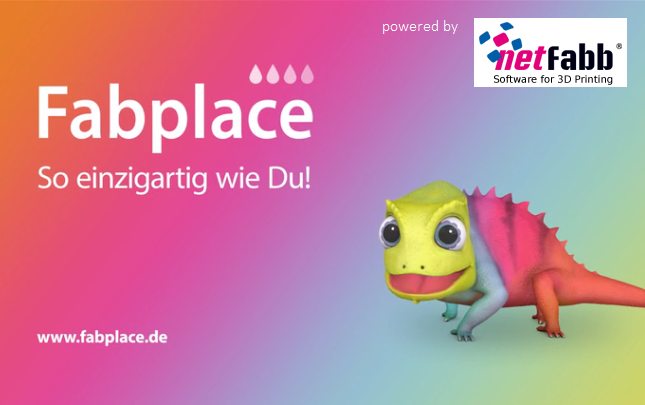 Fabplace (by Deutsche Telekom) has entered the 3D Printing arena and started an online customization service (by now only in German language). With a clear aim at the mass consumer market, they are enabling everyone to create customized and personal smart phone cases in the web, and get the produced items shipped within two weeks.
How clearly the concept is targeted at the millions of T-Mobile (and other network providers') customers can be seen in the published advertisement material, which highlights the benefits of 3D Printing in a very specific manner:
The user interface is guided with 5 simple steps to go:
1. Choose the case for your smart phone type
2. Choose from one of the several basic case shapes and designs
3. Choose your color
4. Upload and imprint a picture on the case and add logos and text, like your name
5. Order and wait until your new case is additively manufactured and delivered to your hands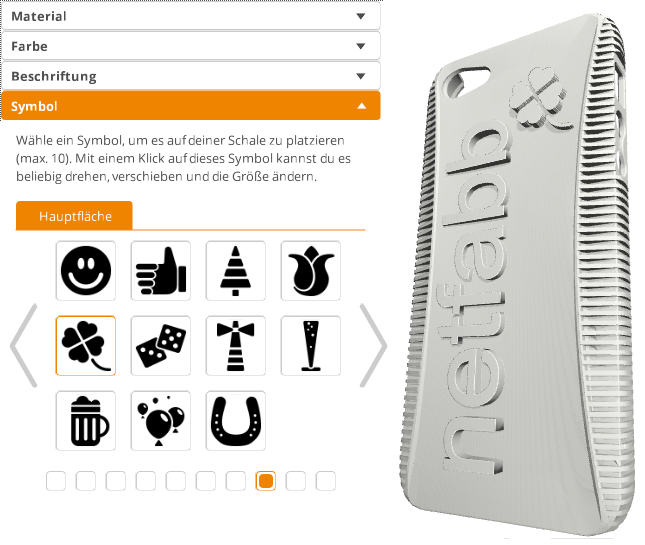 Each case is individually manufactured in Polyamide. The colors are sun resistant and do neither spall or get scratched, nor bleach out. The perfect present for a loved one. New case shapes and models will be added from time to time.
For the structural design of the case templates the netfabb Selective Space Structures software was used. We are also proud to have been able to help in creating the production service archtitecture from end to end.
A Special Offer:
Visit the netfabb team at our booth at the Euromold 2013 in Frankfurt and get a free 5.90 € voucher for your first Fabplace order!
Category: netfabb
---
Comments
[ 0 ]
Tweet
---
Manufacturing some Bones and Saving Time – A Turorial
Thursday, September 05, 2013 by Alexander Steiner
This tutorial shows how to use the Automatic Packing add-on for netfabb Professional on the example of a friendly skeleton. Save your time and let your computer do the work for you. netfabb groups and arranges a large amount of different parts on the building platform as compact as possible. This saves printing material and a lot of manual work.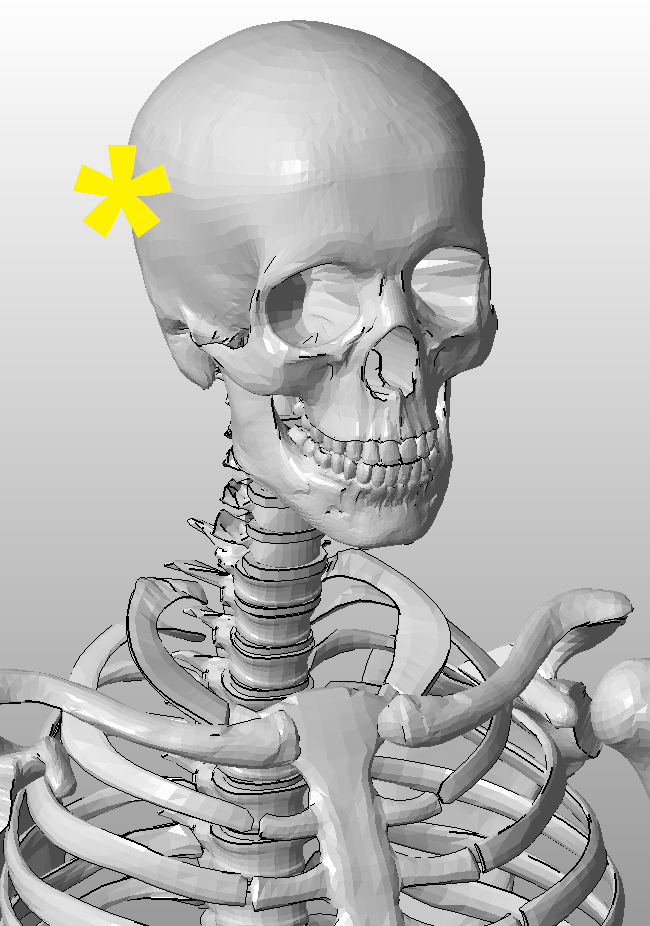 Let's start!
First of all we need to activate the platform in netfabb. Go to "View" and activate the check box for "Show platform":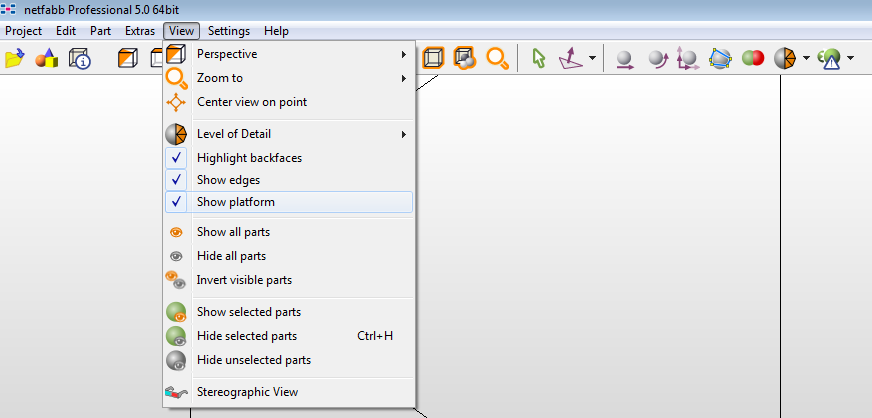 The size of the building platform can be set under "Settings" \ "default platform size":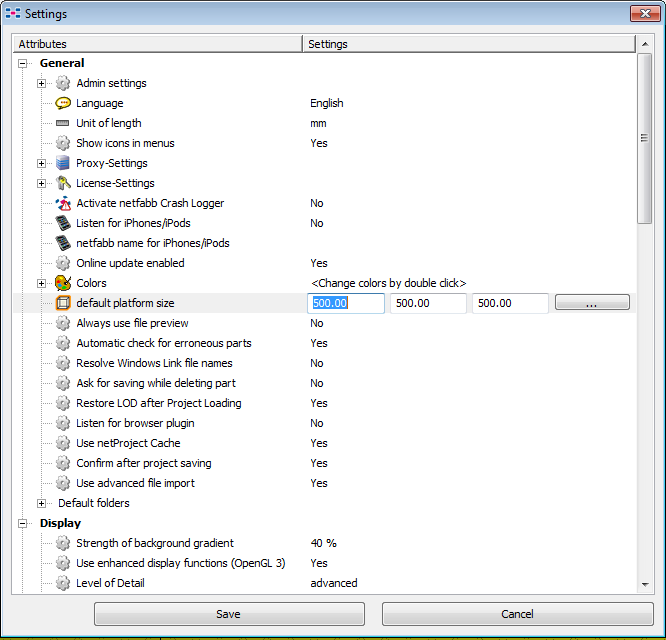 In the next step we load all the STL files of the skeleton. In this case these are over 200 STL files saved as a fabbproject file (in this way all the bone STLs are loaded in a way where they are arranged correctly as a human skeleton).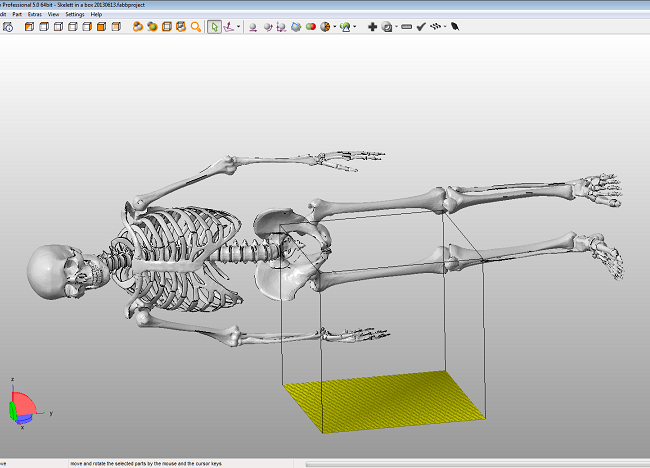 Now to automatically pack all the bones of our skeleton go to "Edit" \ "Automatic placement":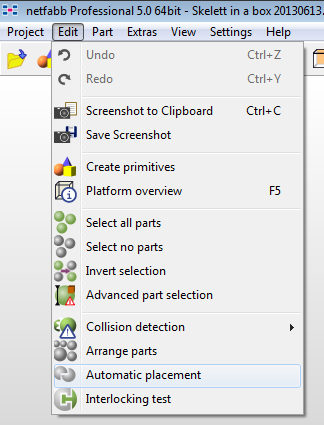 Now comes the important part - the options of how to run the Automatic Packing.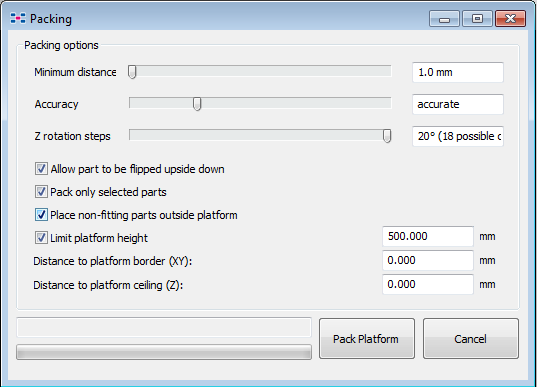 "Minimum distance" determines the distance between the parts. Keep it at 1.0 mm to get the most compact results.
Set "Accuracy" to determine the accuracy of the placement. The more accurate the more compact the arrangement will be and the longer the computer needs to do the calculation.
"Z rotation steps" determines how far the parts may be rotated when their rearrangement is done.
"Limit platform height": Set the maximum height up to which the parts shall be arranged on the platform.
Finally click on "Pack Platform" and let the PC do the work. The result in our example looks like this:
netfabb Automatic Packing pays off really fast for companies offering Rapid Prototyping services and companies manufacturing a lot of parts per build job.
More information and request for a quote here.
Category: netfabb
---
Comments
[ 0 ]
Tweet
---
Tweet