Release of netfabb Professional 5.1.1
Wednesday, May 28, 2014 by Charlie Luzolo
Heard about our free update to netfabb Professional 5 yet?
netfabb Professional 5.1.1 is out and it brings along neat new features to make the usage of netfabb Professional even easier (Yes, this IS possible, indeed!).
This upgrade comes absolutely free for the smart owners of netfabb Professional 5 and delivers...
1. Advanced cutting with tolerances, round corners and multiple polygons
2. A simplified 3-step labeling process (enter or load text – place and adjust – apply!). Also possible for multiple labels
3. Display of your various part names next to them for better identification on the platform
4. Direct import of VRML files
Sounds good? Go ahead and get your free update now to and get ready to boost your AM, RP and 3D Printing experience with netfabb!
Category: netfabb
---
Comments
[ 0 ]
Tweet
---
Introducing Microsoft Model Repair
Friday, April 04, 2014 by Alexander Oster
We are extremely happy to announce the latest product of our partnership with Microsoft to enable seamless 3D Printing for the mass market. Our cloud service on http://cloud.netfabb.com has been serving the community for years with an easy to use and automatic solution to prepare all their files for 3D Printing.
Within the years, the overall interest in and the usage of 3D Printers have risen exponentially - and so has the load on our servers for the service. We are very grateful that the 3D Printing Team at Microsoft has decided to sponsor the hosting of the service on Microsofts Cloud Computing platform Microsoft Azure, and help us to redesign and integrate the backend in a clean, professional, secure and scalable way.
This allows us to pave the way for the growth of the user-base for 3D Printers to millions of individuals - while still maintaining the performance and functionality we would like to achieve - and it allows us to keep the service free of charge.
The workflow itself has not changed very much, except that all uploads and results are stored in a secure way with your Microsoft Account credentials - we finally removed the sending of access keys via email, introduced SSL secured file transfer, and can ensure that the data handling is protected within the Azure Storage Framework. The excellent scalability of Azure allows us to instantly return the repaired files after processing.
We would further like to emphasize, that - in contrary to most other services on the web - neither Microsoft nor netfabb claims any copyright on your uploaded models or other connected content. We are a strong believer in the idea that this service shall take the pain out of 3D Printing, and we are extremely grateful about Microsoft sharing this vision.
In addition to that, we would like to announce the possibility to purchase reserved calculation capacity on the service for your Business, Website, Webshop, App or ERP-System. Via an easy-to-integrate REST API, every website, every app, every device and even every 3D Printer can ensure to use 3D printable data in their workflow - which is important for pricing, quoting, ordering, producing parts or any other thinkable use of 3D data.
W
e strongly believe, that this will significantly improve the stability of every aspect of the 3D Printing eco system, and every application dealing with STL, OBJ, VRML or 3MF files will greatly benefit from the service. As initial partners, we are supporting 3DHubs.com and Microsoft 3D Builder, who are using it exactly in this setting.
If you have interest, some ideas for a business application or immediate need for the service, feel free to contact us anytime.
If you would like to get an impression how serious the vision of seamless 3D Printing is within Microsoft and netfabb, please watch Kris Iverson's excellent presentation at the Build Conference 2014 in San Francisco.
Category: netfabb
---
Comments
[
12
]
Tweet
---
Boost Your Rapid Prototyping Business with netfabb Professional 5.1
Friday, January 31, 2014 by Alexander Steiner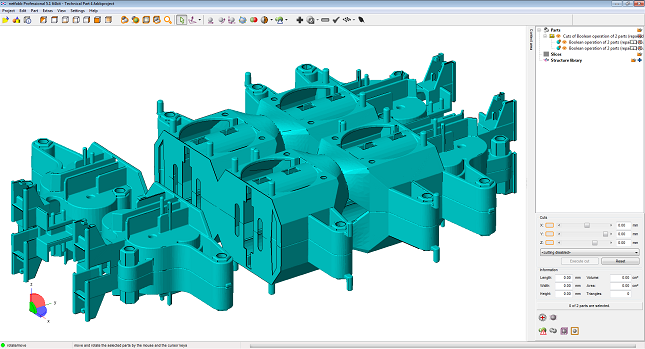 New year, new tools. We are happy to announce the release of the new version of netfabb Professional. This time we focused on empowering netfabb's most used functions and extending the software with features you can implement into your daily business processes and applications.
Discover the new benefits:
netfabb's new enhanced 3D merging, cutting, subtracting and wrapping functions work faster than ever before and netfabb now offers the most stable and reliable mesh boolean tool on the market.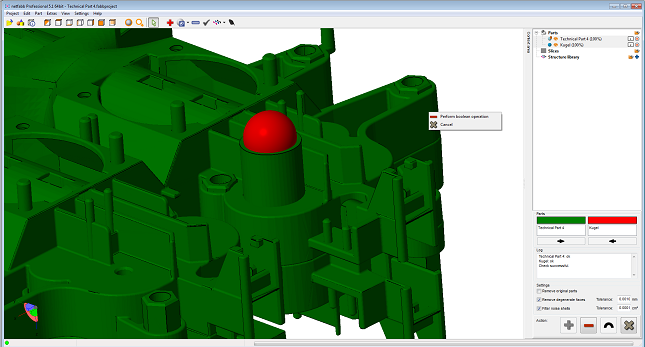 Repair your parts and meshes now up to 80 % faster and use a variety of new advanced repair scripts: e.g. for reduction or refinement of triangles and for automatic renaming of your parts with self-defines prefixes and suffixes.
And: most repair functions (like hole closing and fixing flipped triangles) now do also work on selected triangles of the mesh only. Therefore netfabb now not only helps you to automatically repair the whole part but also at selected areas of the part only. This allows even more accurate part fixing and exactly where it is required - and keeps you in full control even in critical cases.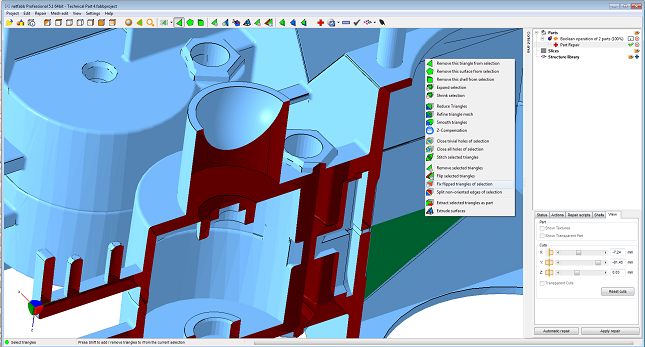 Automatically create reports of your parts and be really fast when it comes to sending out quotes to your prospects. The new netfabb report generation feature includes all the main part and platform information and also profound analysis parameters. Never painstakingly copy and paste required information to your quotes again – adjust the reporting templates to your requirements and generate them automatically.

Use the integrated batch mode and macro scripting for machine-specific part manipulation: autonomous repair, refinement, triangle reduction, part grouping and renaming of hundreds and thousands of files at once. This one is a real time saver. In the past there maybe were situations in your process where you had to do hundreds of mouse clicks. Now you can achieve the same and even better results with only a one click.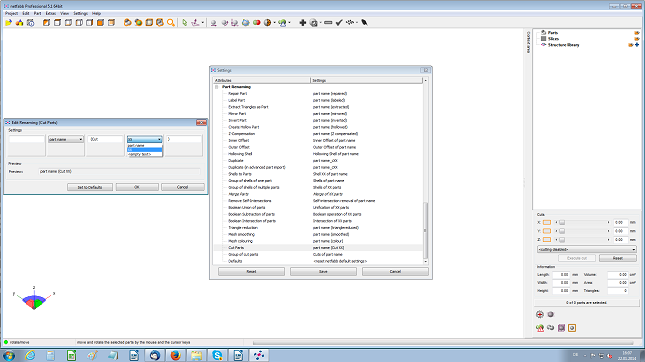 Discover several newly included geometric shapes to fashion up your existing model or to create your own: Bracelet, Vase, Picture Weep, Brick, Fractal and a Rhombicuboctahedron.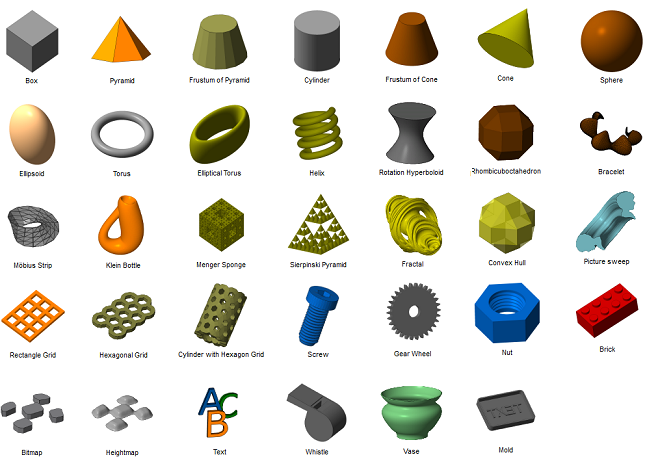 New supported file formats: Color-STLs (import, edit and export STLs with color information), 3MF (The new Microsoft Standard for 3D Printing) and Binvox (Binary Voxel Format).
Remesh function: create a completely new mesh of your part or improve an irregular and "bad" mesh.
Mesh compare function: compare two meshes with each other e.g. to ensure that the repaired part still meets your measurement requirements.
Take a look on our list of all the new functions in netfabb Professional 5 and the supported file formats.
netfabb Professional 5.0 users will get their upgrade to version 5.1 for free. Just run the software update utility at a suitable occasion.
netfabb Professional 4.X users should upgrade to version 5.1 today for only 899 € (1,199 USD). The investment will pay itself off within a few weeks. That's for sure.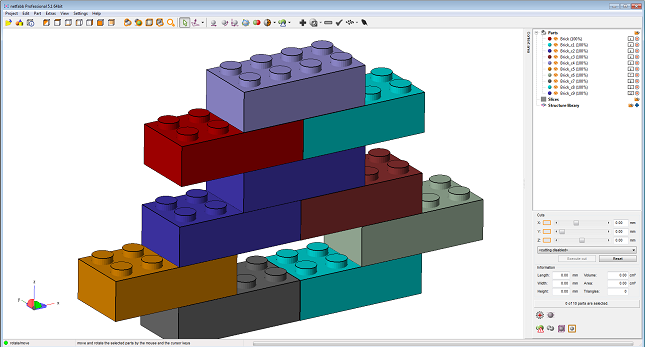 And for all the owners of personal 3D Printers, we are very happy to announce, that all the improvements in the part library, the remesh function, the enhanced 3D Boolean, the new repair scripts and the 3MF and Color-STL file formats have also been included into netfabb Private.
Category: netfabb
---
Comments
[ 0 ]
Tweet
---
Tweet